₹759/1st yr *
.Org Domain Names
Discover .ORG Domains Prices
1 Year
2 Years
3 Years
5 Years
10 Years

.ORG Domain Name Registration

Sale

₹759
₹999
₹999
₹999
₹999
₹999

.ORG Domain Name Renewal

₹989
₹989
₹989
₹989
₹989

.ORG Domain Name Transfer

₹999
-
-
-
-
What is .ORG Domain?
A .org domain name helps you become a well-established brand of integrity and trust. It is one of the original TLDs and a preferred TLD choice for organizations that are dedicated to serving the public interest, such as foundations, cultural institutions, non-profits, and religious organizations.
However, even commercial organizations benefit from a .org domain linked to the charitable arm of the business while other domain names work for the brand. With BigRock, register .org domain starting at just ₹649 and leverage the benefits of exclusive services.
Why you should choose a .ORG extension
Purpose-Driven
With a .org domain, visitors across the world understand that your website has a strong social purpose. Moreover, .org domains are managed by Public Interest Registry, which supports the .org community and provides free internet service for all.
The Home for Non-profits
Whether it's a non-profit, charity, environmental association or cause, or a civic group about which you want to tell the world, .org domain is a powerful stage for bringing your mission to the target audience.
Inspirational
For around 30 years, mission-driven organizations have largely relied on .org domain name for inspiring change. So, buy a dot org domain to join millions of clubs, associations, non-profits, and organizations using .org for reliability and security.
Is .ORG domain right for you?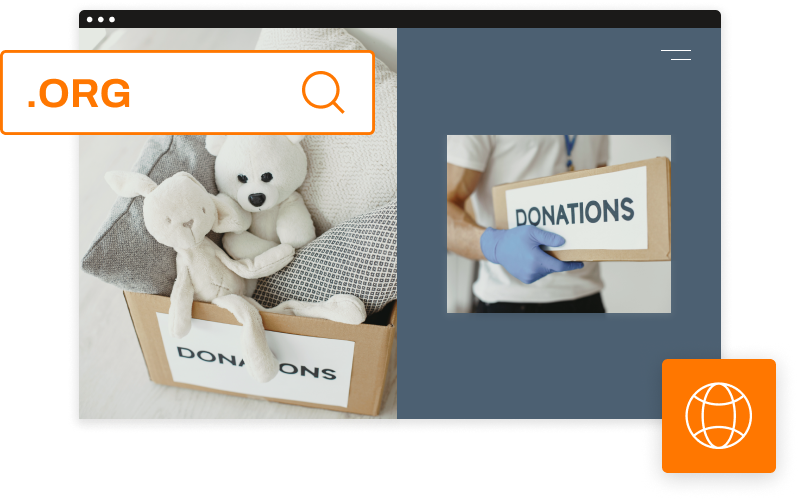 This would largely depend on the type of website you have. The .org domain works best for non-profit websites. It is also sometimes used for websites that are not essentially for-profit but provide the public with resources and information.

You should consider buying a .org domain extension if your website is any of the following:


A non-profit organization
An open-source software website
A public education website providing information
Register now
Find a .ORG alternative
₹999
₹1000
₹429
₹909
Perfect Partners for your .ORG
.ORG Domain - Frequently Asked Questions
The .org domain is one of the original TLDs, giving it a long-standing and trustworthy reputation. This TLD is used by businesses, civic groups, associations, clubs, individuals, families, and non-profits for social good. Everyone can register .org domain to connect with the users and share their ideas. The .org community usually comprises of various types of individuals and organizations across a wide range of interests and industries – all being diverse in their purposes but sharing similar desire to bring inspirations to life. BigRock offers an exclusive .org domain price starting from ₹ 649.
The .org domain extension is an ideal option for any cause or organization that is not-for-profit or nonprofit in nature. This includes schools, fraternities, houses of worship, environmental causes and groups, civic and political organizations, and some non-governmental institutions. Precisely, the .org TLD is open to everyone with an organization which is non-commercial in nature.
The first and the most crucial step in starting any website is choosing a good domain followed by steps such as choosing a good web hosting, a good content management system, an e-commerce platform (optional), creating an interactive web-user interface, and more.
With the .in domain name, you can ensure that your website domain name is short, easy to remember, and an SEO-friendly URL. With BigRock, you can buy .in domain extensions at a competitive price – ₹349 onwards.
Securing your .org domain with BigRock could not be any easier. First, you'll have to check the availability of the domain name that you have thought of. You can do this by entering your domain name in the search bar on the domain registration page. If it isn't available, you'll be provided with several similar alternatives. Once you have selected a domain name, it is simply a matter of following our easy-to-follow registration instructions.
.org domain names must have a maximum of 63 and minimum of 2 characters. It is highly recommended to begin your domain name with a number or letter and end with a number or letter.
The .org domain price may vary across different companies. Considering all the bloggers, small businesses, and other individuals and organizations, BigRock offers an affordable .org domain price starting from ₹, which is easy on everyone's budget.
Coming to the second part of the question, you can register .org domain from 1-10 years, and the domain price per year may vary. However, you can grab the chance to save money on registering and renewing your domain name by opting for Multi-Year Registration
We help you boost your business
30-Day Money-Back
Guarantee*
*30 day money back guarantee is only applicable on shared and cloud hosting