₹329/ yr *
.IN Domain Names
Discover .IN Domains Prices
1 Year
2 Years
3 Years
5 Years
10 Years

.IN Domain Name Registration

Sale

₹429
₹579
₹359
₹579
₹329
₹579
₹579
₹579

.IN Domain Name Renewal

₹749
₹749
₹749
₹749
₹749

.IN Domain Name Transfer

₹679
-
-
-
-
What is .IN Domain?
.in domains often designate an organization or individual based in India. However, it is open to registration by anyone across the world. Whether you are a charity or business, photographer, or blogger, the .in domain can help you establish a close and personal connection with the people in India. They are also a solid bet if you are looking for a short domain that anyone will easily remember.If you want to build an easily recognizable identity that characterizes your business for Indian audience, then .in domain is for you. With this TLD, you can:

Boost your search engine visibility in India
Stand out from local competitors
Make your brand memorable
Strengthen your local business

Register .in domain with Big Rock at an economical price (₹399 onwards) to give your website a local touch and increase your brand awareness in the Indian market.
Why choose a .IN domain?
India is a rapidly growing market, where several businesses use .in domains to headway in the country. It is basically a country code TLD (ccTLD) with no geographical requirements. Anyone in any country can register a .in domain.Moreover, with the reasonably priced .in domain from BigRock, it is easy to own multiple domains and expand your business internationally. It is highly recommended to choose a .in extension because of the following reasons:
Wider Opportunities
India is home to more than a billion people who are contributing to one of the largest economies in the world – and .in TLD will assist you to claim your piece of those billions of dollars in purchasing power.
Recognized Domain Name
A .in domain name is a recognized one. It is a ccTLD trusted by Indians as well as people of other nationalities present across the world.
Established Track Record
.in TLD has millions of registrations and an established track record. Therefore, consider launching a .in website to join the tribe of successful entrepreneurs.
Is .IN domain right for you?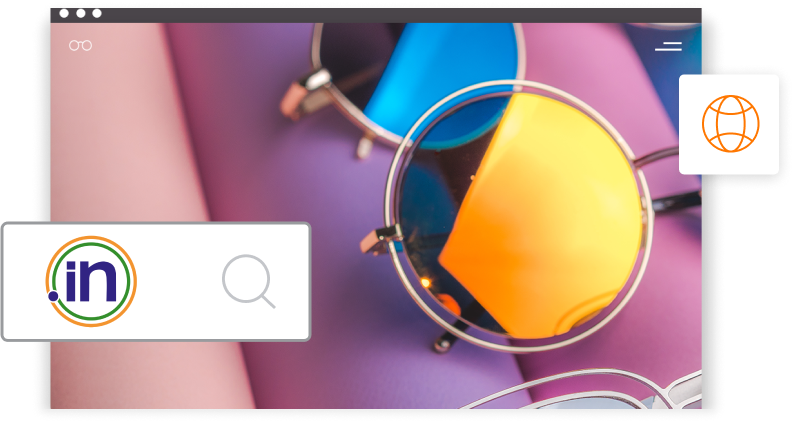 .in domain is a ccTLD (country code top-level domain name) for India, which helps your website rank easily in the country. So, if your business is limited to India, .in TLD will be the right choice for you. However, it wouldn't restrict you from doing business in other countries.

A few reasons why the .in domain is right for you:
Easy to remember
Strengthens your local business
Gives you more domain name options to choose from
Widely recognized domain name
Find a .IN Alternative
₹999
₹759
₹1000
₹909
Perfect Partners for your .IN
.IN Domain - Frequently Asked Questions
.in is the ccTLD (country code top-level domain) for India. Many Indian organizations and businesses use .in domain, which is why it has eventually become one of the most trusted and popular TLDs across India. Irrespective of whether you want to start a blog or business, .in domain extension can be a good choice.
If you are looking to grow your business in India, .in is undoubtedly a good domain extension. It would help you strengthen your brand as a local business, make your brand more memorable, and dominate local search results.
Another benefit of dot in domain registration is that there are wider options available. For example – a domain ending with .com extension is likely to be taken already, however, .in may be available. This would simply double the number of domain names from which you can choose.
The first and the most crucial step in starting any website is choosing a good domain followed by steps such as choosing a good web hosting, a good content management system, an e-commerce platform (optional), creating an interactive web-user interface, and more.
With the .in domain name, you can ensure that your website domain name is short, easy to remember, and an SEO-friendly URL. With BigRock, you can buy .in domain extensions at a competitive price – ₹349 onwards.
A .in domain is popular as it communicates the world that your website and business are Indian. This is because .in is the ccTLD (country code top-level domain) for India. Widely known and trusted by Indians, .in domain names make for a great choice for the businesses operating in India or targeting the Indian consumers.
With many businesses and organizations willing to enter a lucrative and opportunity-rich market like India, you might not get the domain name that you think of in the first place.
So, once you decide the domain name for your business, you'll have to ensure that it is not taken. Checking for domain availability is easy with BigRock – you just need to type in the domain name you want in the search bar on the domain registration page and then it will identify if it's available or not.
No, this isn't true. Even if you are not planning to establish your presence in India, you can register your domain with .in ccTLD and get going. While there may be millions and millions of connections to be made in India, great ideas are unfortunately not that abundant. So, do not let overthinking overpower you when a great idea strikes your mind.
We help you boost your business
30-Day Money-Back
Guarantee*
*30 day money back guarantee is only applicable on shared and cloud hosting