₹69/1st yr *
.Com Domain Names
* when you register a .COM domain name for 3 years. Additional years at ‪₹1319
Discover .COM Domains Prices
Buy for 3 years, and get 1st year at ₹69 only
1st yearDomain Registration
2nd yearDomain Renewal
3rd yearDomain Renewal
Total
.COM Domain Name Registration

for 1 year

₹909
₹1319
₹1319
₹3547
.COM Domain Name Registration

for 3 years

Sale

₹69 ₹909
₹1319
₹1319
Save ₹840
₹2707
₹3547
What is .COM Domain?
The .COM domain extension is synonymous with "commercial". When it was introduced, it was intended for just ecommerce websites. However, today, it is the most widely used extension, serving over half of all the websites and is usually seen as a default domain extension. .COM domain's universal nature makes it a go-to choice for most online organizations, blogs, businesses, and personal websites.
Why you should choose a .COM extension
Globally Recognized
The .COM domain extension is one of the most recognized domains in the world. The world's fastest-growing companies, including Fortune 500 companies have a .COM domain, an ideal TLD for gaining ground in the international market.
Credible and Reliable
Due to the .COM domain extension's credibility, it has eventually become the global online standard. Nothing screams reliability and professionalism quite like a .COM TLD. Before you register your domain, it is essential to ensure that the domain looks credible to the audience present across the world and is easy to remember.
Is .COM domain right for you?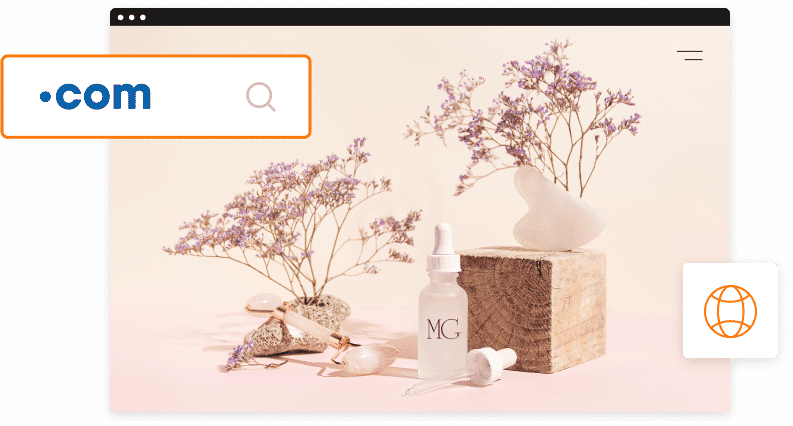 A .COM domain improves your reliability and credibility, and as a business owner being trustworthy and reliable are key to being successful.

If you run a business website, a blog or any other type of website, it is highly recommended to go for a .COM domain as it is an established domain name within all industries, is globally recognized, easy to remember, and perfect to expand your business globally.
Register now
Perfect Partners for your .COM
.com Domain - Frequently Asked Questions
A .com domain is a TLD (Top-Level domain) in the DNS (Domain Name System). Added in 1985, this TLD is derived from the word commercial, which indicates its intended purpose for the domains registered by commercial organizations. Later, the domain was made available for non-commercial purposes as well. The .com domain registrations are processed through the registrars accredited by ICANN, like BigRock.
.com domains are good and widely preferred for many reasons, one of them is global recognition. Simply put, if you are starting a business and planning to expand internationally at some point, .com domains work well across the world.
You can buy a .com domain for 1-10 years, depending on your needs and preferences. Additionally, the longer the term you get the domain for, the more potential savings you can get. So, you can get your .com domain registration for as long as you want and take it forward from there.
Once you buy the domain from BigRock at an exclusive .com domain price, you can choose for Multi Year Registration and save on costs.
The .com TLD was a part of one of the first sets of TLDs introduced. .edu, .net, .mil, .int and .gov are a few more TLDs that were a part of this set. Unlike other TLD options, .com was originally intended specifically for commercial websites. Due to the underlying intent and being one of the earliest domain extensions, .com TLD has enjoyed enormous popularity. You'll be surprised to know that, today, the extension is used synonymously with the internet and is one of the go-to extensions for millions of websites across the world.
With .com domain extension being one of the most popular TLDs worldwide, it is no surprise that domain availability is becoming limited.
So, after deciding on the perfect TLD for your business, you need to ensure that it is not already taken. Checking for domain availability is easy with BigRock – you just need to type in the domain name you want in the search bar on the domain registration page and then it will identify if it's available or not.
Yes, in a way. As .com has been around for a long time, search engines tend to be biased towards it. Now, that does not mean that other domains are not searchable, however, if you have an option which will work with a .com TLD, it is highly recommended to get it. Google loves the .com domain as it is the oldest, largest, most used, and most valuable domain suffix.
We help you boost your business
30-Day Money-Back
Guarantee*
*30 day money back guarantee is only applicable on shared and cloud hosting