Self-Managed Dedicated Server Hosting
Grow your Business with our self-managed Linux Dedicated Server Hosting. Experience superior performance and security for your website or app today.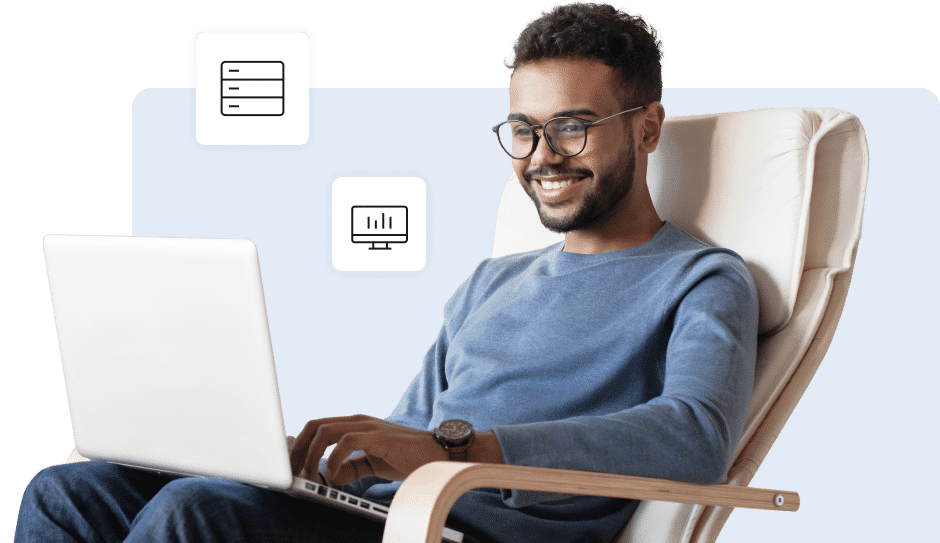 Self-Managed Dedicated Server Hosting Plans and Prices
Specify your preferences below and choose the best price for your business
Select a server location.


Learn More
India
USA
Select a storage type.


Learn More
1 month
3 months
6 months
1 year
30% off
Mach-1
Ideal for growing businesses
₹5199/mo
2.30 Dual CoreLinux
4 GBRAM
1000 GBHDD (RAID 1)
5 TBBandwidth
FREEWebsite Migration
FREE2 IPs
30% offBest Value

- 30% off
Mach-2
Recommended for developed enterprises
₹5949/mo
2.50GHz Octa CoreLinux
4 GB RAM
1000 GBHDD (RAID 1)
5 TB Bandwidth
FREEWebsite Migration
FREE2 IPs
30% off
Mach-3
Perfect for established organisations
₹7419/mo
2.50GHz Octa CoreLinux
8 GBRAM
1000 GB HDD (RAID 1)
10 TB Bandwidth
FREEWebsite Migration
FREE2 IPs
30% off
Mach-4
Powered for large-scale companies
₹9099/mo
2.50GHz Octa CoreLinux
16 GBRAM
1000 GB HDD (RAID 1)
15 TB Bandwidth
FREE Website Migration
FREE2 IPs
What in Our Linux Self-Managed Dedicated Server Hosting Plans
Our Self-Managed Dedicated Hosting plans bundle the resources you need to seamlessly run your web servers
High Performance
Maximum Control
cPanel/Plesk hosting panel
Instant Provisioning
Host your website with just a click
No additional costs or delays
Expert Support 
24/7 on-demand expert support
BigRock's Self-Managed Linux Dedicated Server Hosting Specifications
Full Root Access
 You get full control over your hosting environment with root-level access. Best for advanced users, system admins, and developers. 
Improved cPanel 
Get the latest WHM control panel with multi-language availability, Quickinstall, and a brandable control panel that lets you add your logo.  
Top of the Line Network 
Our fully redundant network with zero point of failure helps ensure faster speeds, uptime, and unrivaled performance.  
Advanced Security 
Protect your business from DDoS attacks and other threats with multiple network security layers, Iptables and more. 
Compare Self and Fully Managed Dedicated Servers Hosting
Power up your website with our reliable Dedicated Server Hosting 
| Server & Application Setup | SELF-MANAGED | Fully Managed |
| --- | --- | --- |
| Basic server setup with pre-installed control panel | | |
| Configured core services | | |
| Configured local & offshore backup | | |
| Third-party application installations | | |
| Assistance to configure FTP and email clients in their local system | | |
Compare more features
Frequently Asked Questions
Dedicated servers, as its name implies, are a type of web hosting where a client leases an entire server along with its resources. The setup contrasts VPS and shared hosting setups, where you share resources with other websites or applications running on the server.
While their most common use case is to host high-traffic sites, dedicated servers are also useful for processing big data, video streaming and conferencing, and for running mission-critical apps and SaaS applications.
Dedicated Server Hosting involves leasing an entire physical server exclusively for your website or application. Unlike Shared Hosting, you have complete control over the server's resources and configuration.  
With a dedicated server, you don't have to worry about sharing resources with other users, resulting in enhanced performance, reliability, and security. You can customize the server to meet your specific requirements and have the flexibility to scale resources as your website or application grows. 
There is no specific type of website that shouldn't use Dedicated Server Hosting. The suitability of Dedicated Server Hosting depends on various factors such as website traffic, resource requirements, budget, and technical expertise. Smaller websites or those with low traffic volumes may find Shared Hosting or other hosting options more cost-effective. However, larger websites or those with high traffic, complex applications, or specific security needs can benefit from Dedicated Server Hosting to ensure optimal performance and customization. 
Cloud VPS (Virtual Private Server) and Dedicated Server Hosting differ in resource allocation and server environment. A Cloud VPS shares resources among multiple virtual servers on a single physical server, offering flexibility and scalability. In contrast, a Dedicated Server provides exclusive access to an entire physical server, ensuring high performance and control.  
Dedicated Servers are ideal for resource-intensive applications, while Cloud VPS is suitable for smaller projects requiring scalability and cost-efficiency. 
Dedicated Servers are ideal for medium/large businesses and heavy-traffic websites. It provides maximum customization, configuration, and overall flexibility. 
To get your website transferred for free, you need to get in touch with our Support team within one month of purchase. For additional information, click here. 
You get full root access, which means you have administrative control of your server. 
Yes. We have managed hosting services for Dedicated Servers, which can be purchased as an add-on with our new or existing dedicated products. Under Managed Dedicated Servers, our server specialists will help you with server management, and proactive monitoring and will be available round the clock for advanced support. To know more about managed services for Dedicated servers, click here. 
For the management of the server, you will get access to the Server Management Panel, through which you can carry out operations like Start, Stop, Restart, Rebuild and Reset Password. 
For the management of Hosting, we offer cPanel/WHM as an add-on. It is auto installed when this add-on is added to the cart during the purchase of the server. 
Yes, we do offer WHMCS as a billing panel for your dedicated server. You can purchase the license from us at a minimal cost, and then install it on your dedicated server. 
The provisioning system will get your server ready in minutes, ensuring that you get access to your server instantly. 
There are several ways to access the server: 
SSH – access your server through any SSH client using root credentials 
cPanel – access and manage your server through the cPanel/WHM control panel 
Dedicated Server Control Panel – Stop, start, and restart your server through our web-based control panel, which comes bundled with every server. 
You can migrate your Web Hosting package from another Web Hosting provider to Bigrock. For further details, please contact our Support team. 
Yes. We offer Acronis Cyber Backup & Recovery solutions for your dedicated server, which can be purchased at an additional cost. 
– Acronis backup helps to take full or incremental backups of database, files, mailboxes & disks regularly, depending upon the daily, weekly, and monthly frequency selected. 
– The dedicated server backup data can be restored instantly & quickly and is also completely secure against ransomware. 
– Acronis Backup is available for USA & Asia server locations. On purchase of incremental backup volume, the new volume will be added to an existing Acronis panel (depending on the location). 
– Acronis Backup add-on is available in the purchase flow for our new customers and the control panel for our existing customers. 
– Acronis Cyber Backup add-on is not covered under the money-back guarantee refund policy. 
– The tenure & renewal cycle of Acronis backup is not dependent on the tenure of the dedicated server purchased.  
We help you boost your business
30-Day Money-Back
Guarantee*
*30 day money back guarantee is only applicable on shared and cloud hosting