Join our Affiliate Program
Want to recommend India's most trusted web solutions to your network while earning big? Sign up as a BigRock affiliate for FREE and enjoy up to ₹10,000 per sale.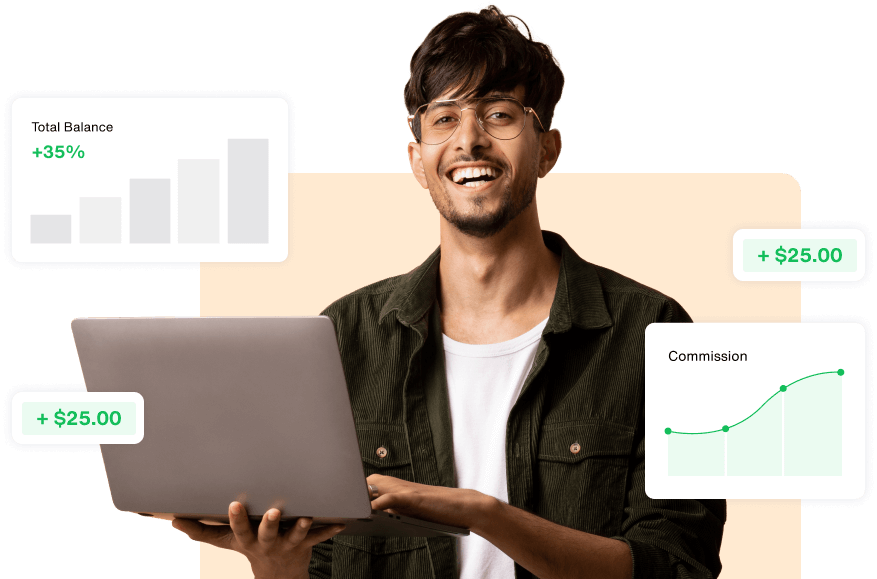 Make Big Money

Access to exclusive offers

Brilliant banner inventory

FREE Signup

Top-notch tracking

Regular Payouts

Zero Investment
Become an Affiliate in 3 Easy Steps
Seriously Big Commissions
| Product Category | Commission Per Qualified Sale |
| --- | --- |
| Web Hosting & Servers | 50% of each sale |
| Domain Registration | 8% of each sale |
| Business & Enterprise Email | 25% of each sale |
Note: Commissions calculated on Net Selling Price
Frequently Asked Questions
Promoting Bigrock
Products
The BigRock Affiliate program is an online marketing program where you promote BigRock products to your friends, customers etc and get paid commissions for every successful purchase.
Once you sign-up, you will receive a tracking link which you can share with potential customers and earn commissions.
In case you already have a website, all you need to do is place our banners or text links that we provide on your website, blog, facebook/twitter page and drive visitors to your unique URL and earn commissions.
*Please note, commissions are paid ONLY on sales made through your affiliate link.
Your earnings are directly proportional to the amount of effort you put in to drive sales. You can earn upto Rs. 10,000 for each customer that completes a purchase. You can read about the Commission Details here. and within your IO post signup.
An Insertion Order or IO is a set of rules that govern the working of the BigRock Affiliate Program. It specifies details regarding commissions paid on different products, rules related to promotional activities, payouts and coupon codes on the Impact Radius platform.
There is NO COST in joining the BigRock Affiliate Program.
We encourage all interested people to apply to our program. In case you already have a website, we will need to approve your site before you can start selling our products. Any site that displays content related to, but not limited to the following would not be signed up:
Adult sites, Software piracy, ROM or emulator sites, and sites which promote or engage in illegal activity such as hateful or racist speech etc.
Please note that BigRock reserves the right to bar you at any time from the Affiliate program if you do not comply with our Affiliate Terms View Agreement
We've partnered with industry leaders Impact Radius to offer accurate tracking and on time payment processing. Sign Up
As an affiliate, you can sell all BigRock Products. Our Products include:
– Domain Name Registration
– Website Hosting
– Email Hosting
– Do-it-Yourself Website Builder Tool
– Digital Certificates
To become a BigRock Affiliate you do not require any technical skills. We will provide you with a ready-made banners, links, etc.
BigRock Affiliate Program lets you add to your income by advertising for quality online products and services. Below are the key benefits of becoming a BigRock Affiliate:
– Free Sign up
– Earn upto Rs.10,000 per sale
– BigRock will provide you with all marketing collateral
– Monthly Payouts
– World Class Products
– BigRock manages Customer support & service
You can view the IO under Campaigns >> My Campains >> Terms
Our affiliate program uses cookie tracking to track and award sales made on the affiliate URL. The tracking cookie is valid for 60 days. This means that commissions will be paid on all sales within the cookie period i.e. you will earn a commission for all sales made within 60 days of referring the customer.
As a Media Partner, adding subID values to your tracking links enables you to place them on different sites or provide them to your sub-affiliates. You can append up to three subID values and one sharedID value to your tracking links and then see those results in reporting. You can add subID from your dashboard by click on "Show Advanced Settings" under "Create a Link"
When a visitor clicks a tracking link on a Media Partner's site with subID or sharedID values appended, those values are captured and stored. The values are then included in reporting, enabling Media Partners to tie the subID and sharedID values to clicks and actions. All campaign ads allow subIDs to be dynamically populated and appended to the ad's tracking link by default.
The below outline some common scenarios in which this feature is desirable:
– Optimizing paid search campaigns by appending the keyword
– Optimizing ad placement across a site by including different subID values based on the location of the banner or text link
– CPA networks append their partnerID to track activity at the sub-affiliate level
– Loyalty programs are able to tie conversions back to a specific member
– Media Partners using postback tracking can dynamically populate subID values as identifiers for each of their sub-affiliates
– SubID values are available in Media Partner reporting only. The sharedID value is available in both Media Partner and Advertiser reports.
– It is common for CPA or sub-affiliate networks to append a sharedID parameter to their tracking links. The sharedID is often the CPA network assigned partnerID. This enables the Advertiser to optimize and monitor activity at the sub-affiliate level.
The general format of a tracking link with subID and sharedID values appended is as follows:
http://trackingdomain.ojrq.net/c/mpid/adid/campaignid?subId1=value1&subId2=value2&subId3=value3&sharedId=value4
Once you've finished implementing subIDs or sharedID on your tracking links you'll want to use the available reporting in your Impact Radius media partner account. They can be found in two primary places:
– Performance by SubId
– Advanced Action Listing
Both of these reports can be found in the Reporting >> All Reports section of the Impact Radius interface.
No, we do not use our affiliate tracking code to track or log customer information other than that required to payout commissions to affiliate.
You can view your account status, sales activity, commissions and much more by logging into your affiliate control panel
If a coupon is applied during purchase, the commission calculated would be reduced in proportion to the discount earned.
Actions are purchases made by customers referred by you.
Commissions are paid when an action locks, which is 60 days from when it took place. This means that commissions for the entire month of January are paid on or before the 30th of March.
In general, you can expect about 2-4 hour lag in data being reported in the panel. However, if you still don't see an action reported then we will work with you to resolve this as quickly as possible. Simply create an Action Inquiry from Campaigns >> Pending Actions >> Action Inquiries and provide us with the Order ID.
We will review this and add it if it was missed.
No, there a slight lag in data being captured and reported in dashboard. Expect about 2-4 hour delay in metrics updating in your panel.
If a coupon is applied during purchase, the commission calculated would be reduced in proportion to the discount earned.
This means if a 20% discount coupon is applied while purchasing an Essential Web Hosting plan you will earn Rs.600 commission on that particular transaction (commission reduced by 20%). You will be able to see which coupons will impact your commissions within your IO.
Since payouts are made via an American 3rd Party entity, commissions will not be taxed at our end.
Impact Radius offers Electronic Bank Transfer (Wire Transfer) as a payment option for Affiliates based out of India whereas there are other options available to affiliates based in countries other than India, if you are one of them and want to know specific options for your country of residence feel free to write to us.
Commissions are paid when your account crosses a minimum of Rs.3200 in commissions.
All ad banners will be available in the "Ads" section of your Impact Radius Dashboard, you can get their HTML codes and use the same on your websites.
Tracking Links are basically links that allow us to track your actions and attribute commissions to you. Tracking links for a specific product landing page can be created using the "Enter Landing Page" cell in the Create a Link section on your dashboard.
You can update your bank details within your Impact Radius account itself. To do so, login to your Media Partner Account and follow the below listed steps:
– Click on "Finance" on the main navigation bar on the top
– Click on "Withdrawal Settings"
– Choose "India" as the Bank Location and fill in your correct details
– Select from the "Payment Schedule" options, the one that suits your preferences and click save
Thats it! you're done. All your earnings will be wired to you as per the details entered here. Please make sure that the details are accurate and up to date.
If you ever wish to change your bank details, you can update them in the "Withdrawal Settings" and click save.
Yes. BigRock will provide marketing collaterals like banners, mailers etc from time to time to help you sell BigRock Products.
On your existing website, try to place ads in areas which will get you maximum traffic. You can also advertise on your Facebook/Instagram page & Twitter account.
Along with the above mentioned online advertising methods you can also print brochures/flyers and put them up in your store, home etc.
Please remember the better the placement of BigRock banners the more money you will earn through the affiliate program.
Most sites on the internet require cookies to be enabled. A customer who has cookies disabled on their browser will not be able to have their sales tracked; however, studies have shown that cookies are rejected by users only 0.68% of the time, so you have a 99.32% chance of making a successful sale.
No, please do not bid on the term "BigRock" or it's typos in any format in paid search/SEM. You are welcome to bid on non-trademark and non-brand terms in paid search/SEM. Terms you cannot bid on include (but not limited to):
– BigRock
– Big rock
– BigRock domains
– BigRock domains .com
– BigRock india .com
– BigRock India domains
– BigRock domain registration
– BigRock domain registration India
– BigRock Hosting
– BigRock Email
– BigRock SiteBuilder
– BigRock DIY
– BigRock Digital Certificates
– BigRock Custom website
BigRock offers various modes of payment. You can use any of the below mentioned payment options:
Netbanking
Debit Card
Credit Card
PayPal
Wire Transfer or Direct deposit
Cheque
Demand Draft
You can collect cash from the Customer and pay using your own credit card. The customer can also send a cheque to BigRock.
For any technical assistance, feel free to get in touch with our Support Team:
– Email: [email protected]
– Monday to Friday : 11AM – 9 PM
We help you boost your business
30-Day Money-Back
Guarantee*
*30 day money back guarantee is only applicable on shared and cloud hosting